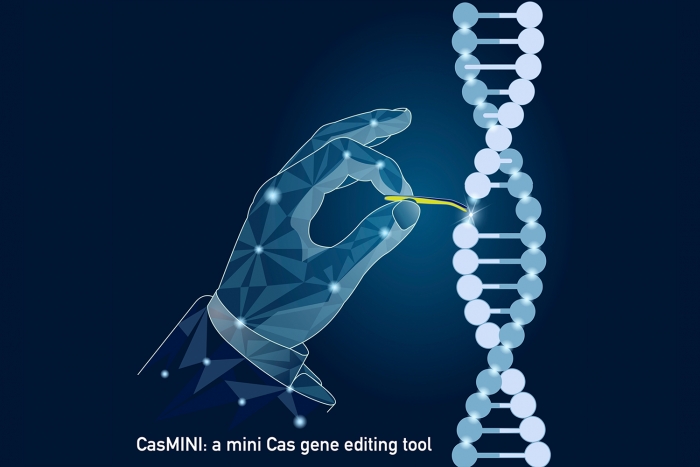 (Image credit: Stanford University)
Stanford researchers develop an engineered 'mini' CRISPR genome editing system
Featured
Bioengineers have repurposed a "non-working" CRISPR system to make a smaller version of the genome engineering tool. Its diminutive size should make it easier to deliver into human cells, tissues and the body for gene therapy.
The many different CRISPR systems in use or being clinically tested for gene therapy of diseases in the eye, liver and brain, however, remain limited in their scope because they all suffer from the same flaw: they're too large and, therefore, too hard to deliver into cells, tissues or living organisms. In a paper published Sept. 3 in Molecular Cell, Qi and his collaborators announce what they believe is a major step forward for CRISPR: An efficient, multi-purpose, mini CRISPR system.
"At first, this system did not work at all for a year," Xu said. "But after iterations of bioengineering, we saw some engineered proteins start to turn on, like magic. It made us really appreciate the power of synthetic biology and bioengineering."
The research results are published in this article.
Read the full article at Stanford News.
Visible Legacy Comment
The Stanford Stanley Qi Lab is opening the door to collaborations with industry, we would encourage Tech Scouts to take a look at the current Qi Lab Team. The researchers have already begun assembling collaborations with other scientists to pursue gene therapies. They are also interested in how they could contribute to advances in RNA technologies – like what has been used to develop the mRNA COVID-19 vaccines – where size can also be a limiting factor.
Additional Info
Navigator:

Widget:

Caption:

Stanford University Stanley Qi ecosystem
back to top