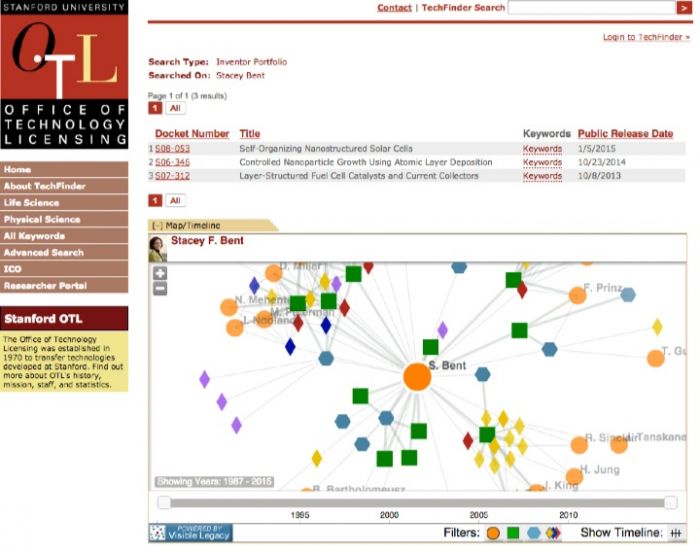 Visible Legacy widgets are integrated right into the Stanford University OTL website
Case Study: Visible Legacy integration with Stanford Office of Technology Licensing
Background.  For over 40 years the Stanford Office of Technology Licensing has been a key hub of an ecosystem connecting Stanford innovations with licensees and investors. Stanford OTL is considered a pacesetter and one of the country's most active offices in the field of technology transfer from university to industry. Among the most prominent of the inventions licensed by OTL are Florescent Activated Cell Sorter (FACS), FM Sound Synthesis, DNA Cloning, Digital Subscriber Line (DSL) technology, and even the Google search engine itself. To serve its ecosystem, OTL has pioneered a popular search portal website called "TechFinder".
Project.  Visible Legacy widgets were integrated into TechFinder to appear embedded within pages presented to the user. Each public online document used to disclose new innovations, called "dockets", includes a widget which maps the information within the docket, visualizing the researchers, project description, lab links, news links, patent filings, keywords, and related projects. Similarly, TechFinder Innovator Portfolio pages include a widget displaying the respective researcher's work and collaborators. The widgets were tailored to link within the site to let the user hop from the current docket to related dockets and to use keywords as search terms.  
Results. Incorporating Visible Legacy widgets into an existing site such as Stanford OTL TechFinder adds visual presentation of information, enhances site navigation, disambiguates topics, and makes the site more "sticky" by encouraging users to explore related projects and identify additional relevant researchers and innovations.
More OTL pages. A searchable table of innovators selected from the Stanford University ecosystem with links to the Inventor Portfolio pages in the Stanford Office of Technology Licensing (OTL) Techfinder system is available on our OTL Selected Innovators page.